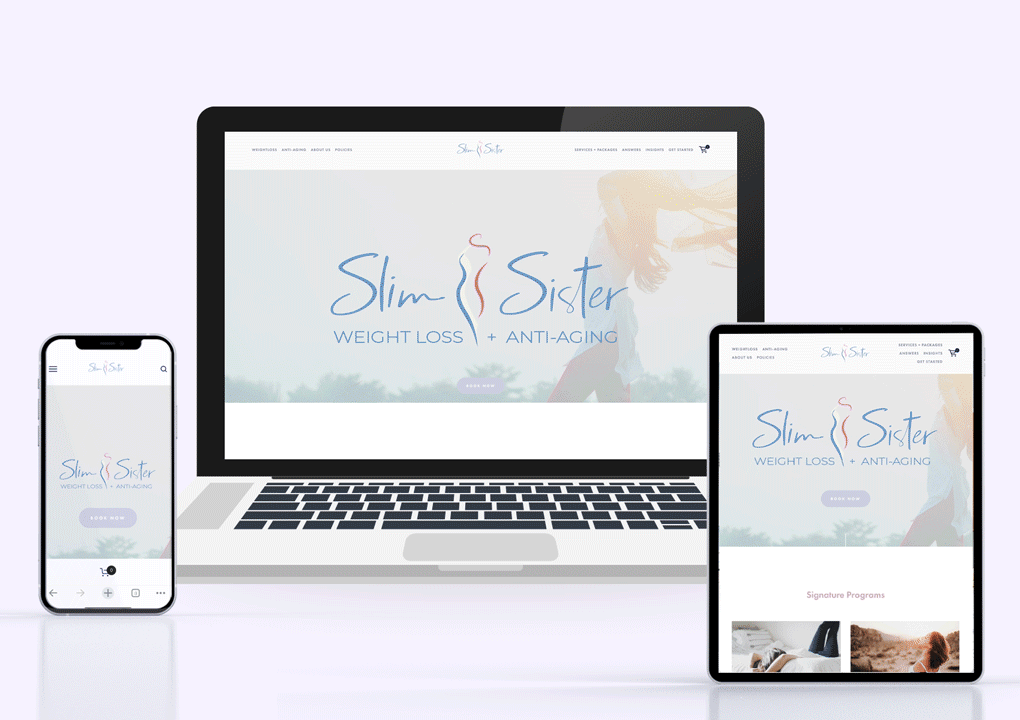 Slim Sister
At Refine Digital Media, we had the incredible opportunity to collaborate with Slim Sister, a women-led anti-aging and weight loss center that empowers and celebrates the beauty within all our sisters. Our team was thrilled to be part of their journey, creating captivating graphic designs and a stunning website that perfectly captured their vision. From crafting their unique branding to designing a user-friendly website, we ensured that every element reflected the essence of Slim Sister's mission. We are proud to have contributed to the success of Slim Sister and their commitment to empowering women on their wellness journey.
About our client:
Slim Sister is a women-led anti-aging and weight loss center focused on igniting the beauty and light within all our sisters!  To be slim is to feel light, at any weight and at any age.  With various anti-aging and light therapy treatments, Slim Sister's programs are designed to speed up cellular turnover and balance hormones in your skin.
Category:
Graphic design & Website Design
Canadian branding agency. Unlock Your Business Potential with Professional Digital Solutions
Canadian branding agency. In today's digital landscape, it's crucial to have a strong online presence. At Refine Digital Media, we offer a wide range of services to help your business thrive. From captivating graphic design services to cutting-edge digital media solutions, we have the expertise to elevate your brand and engage your target audience. Our skilled team excels in website development, ensuring that your online platform is visually stunning, user-friendly, and optimized for performance. With our comprehensive digital solutions, we empower your business to stand out in the digital realm and achieve lasting success.
Elevate Your Brand with Strategic Digital Marketing
A strong brand presence is essential for business growth. At Refine Digital Media, we specialize in branding services that create a lasting impact. Our team works closely with you to develop a comprehensive brand strategy, encompassing logo design, color schemes, and brand guidelines. We seamlessly integrate your brand identity into all digital channels, ensuring a consistent and memorable brand experience. Our expertise extends to online marketing strategies, including social media management, search engine optimization (SEO), and email marketing. By harnessing the power of digital marketing, we position your brand for maximum visibility, engagement, and conversions. Canadian branding agency.
Exceptional Digital Experiences Tailored to Your Business
At Refine Digital Media, we believe that exceptional digital experiences are the cornerstone of business success. Our team of experts specializes in content creation, crafting compelling narratives that resonate with your target audience. Whether it's engaging blog posts, informative website copy, or captivating visuals, we create content that captivates and converts. We also offer e-commerce solutions, enabling you to establish a seamless online shopping experience for your customers. With our meticulous attention to detail and collaborative approach, we bring your digital vision to life, delivering outstanding results that drive growth and customer satisfaction.