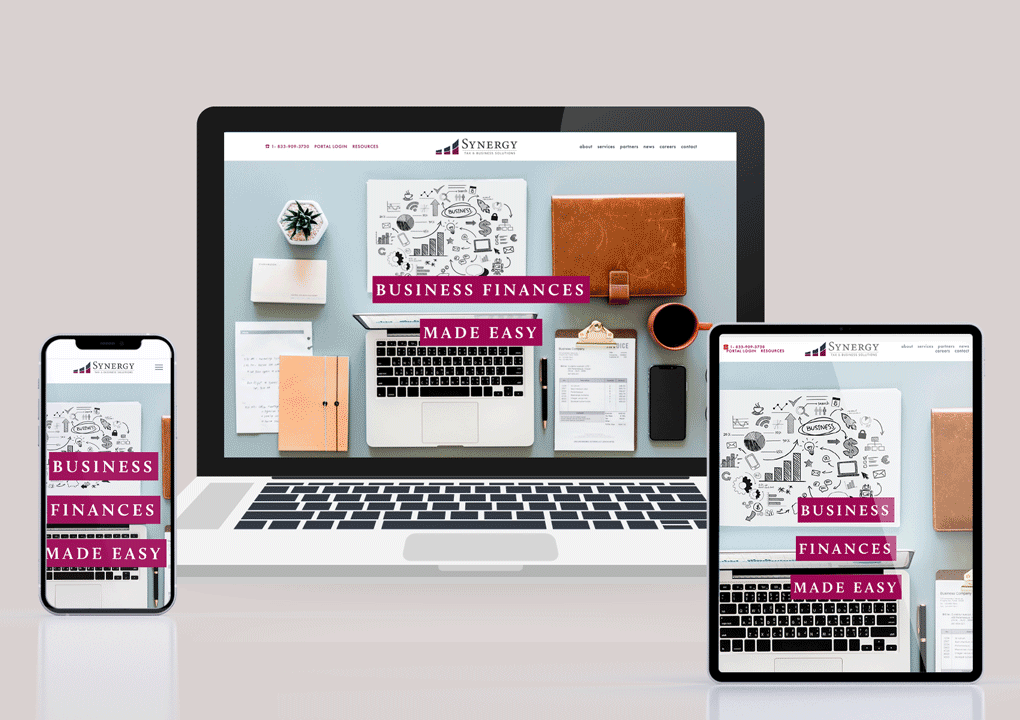 Collaborating closely with Synergy Tax & Business Solutions, our team of seasoned professionals crafted a robust brand strategy, including logo and branding design, that accurately represents their unique vision. Additionally, we developed a visually appealing website that effectively highlights their offered services and effortlessly incorporates their social media channels. Our team also provided monthly web maintenance services, SEO optimization, and ongoing support to ensure their site is always up-to-date and running smoothly.
About our client:
Synergy Tax & Business Solutions specializes in providing comprehensive business services and consulting solutions with a team educated in Business, Accounting, Taxation, Marketing and Communications.
Categories:
Graphic Design, Branding & Website Design
Branding & Website Design.Unlock Your Business Potential with Professional Digital Solutions
Branding & Website Design. In today's digital landscape, it's crucial to have a strong online presence. At Refine Digital Media, we offer a wide range of services to help your business thrive. From captivating graphic design services to cutting-edge digital media solutions, we have the expertise to elevate your brand and engage your target audience. Our skilled team excels in website development, ensuring that your online platform is visually stunning, user-friendly, and optimized for performance. With our comprehensive digital solutions, we empower your business to stand out in the digital realm and achieve lasting success.
Elevate Your Brand with Strategic Digital Marketing
A strong brand presence is essential for business growth. At Refine Digital Media, we specialize in branding services that create a lasting impact. Our team works closely with you to develop a comprehensive brand strategy, encompassing logo design, color schemes, and brand guidelines. We seamlessly integrate your brand identity into all digital channels, ensuring a consistent and memorable brand experience. Our expertise extends to online marketing strategies, including social media management, search engine optimization (SEO), and email marketing. By harnessing the power of digital marketing, we position your brand for maximum visibility, engagement, and conversions. Branding & Website Design
Exceptional Digital Experiences Tailored to Your Business
At Refine Digital Media, we believe that exceptional digital experiences are the cornerstone of business success. Our team of experts specializes in content creation, crafting compelling narratives that resonate with your target audience. Whether it's engaging blog posts, informative website copy, or captivating visuals, we create content that captivates and converts. We also offer e-commerce solutions, enabling you to establish a seamless online shopping experience for your customers. With our meticulous attention to detail and collaborative approach, we bring your digital vision to life, delivering outstanding results that drive growth and customer satisfaction.