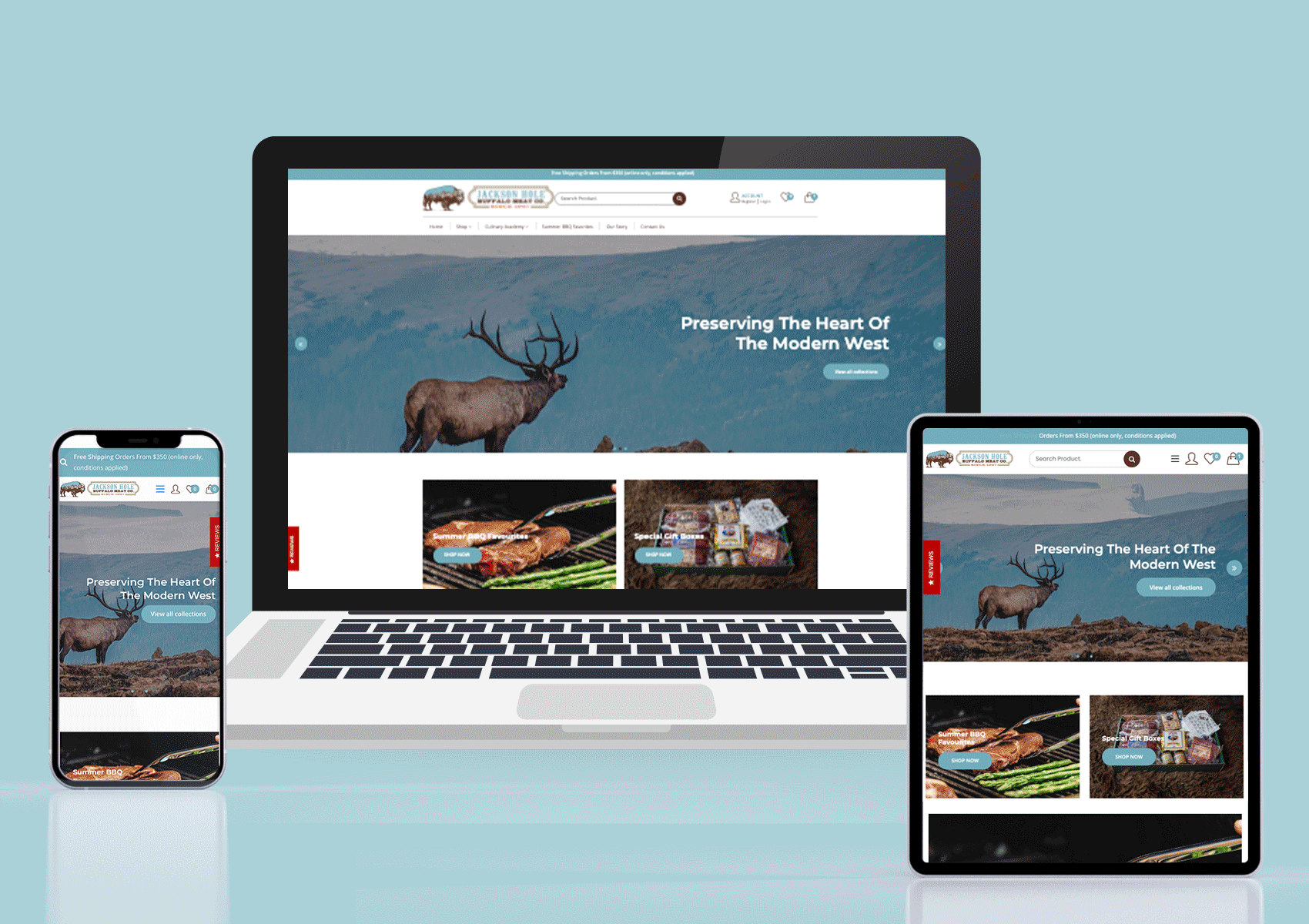 Jackson Hole Buffalo Meat
At Refine Digital Media, we're experts in Shopify website design and e-commerce development. Recently, we had the pleasure of working with Jackson Hole Buffalo Meat Company to create a stunning Shopify website that showcases their commitment to sustainable, high-quality bison meat products.
Our team of Shopify website design and e-commerce development experts worked closely with Jackson Hole Buffalo Meat Company to understand their unique business needs. Teaming up with Digital Clicks, we created a custom layout that beautifully showcases the Wyoming landscape and the buffalo that roam freely on it. Our optimization efforts included planning effective CTAs and web layouts to provide customers with a seamless and hassle-free shopping experience. Additionally, we ensured the website is fully responsive and optimized for both desktop and mobile devices. Contact us now to see how our services can help your business thrive!
About our client:
The Jackson Hole Buffalo Meat Company, based in beautiful Jackson Hole Wyoming, was established in 1947 as the "Jackson Cold Storage Company".
Jackson Hole Buffalo Meat Company supports the ranching traditions of the Great American West. They believe in raising animals on the open range and preserve grasslands for the next generation. They reject growth hormones, steroids and antibiotics. Supporting traditional methods of raising buffalo means creating a more sustainable food system – one that provides healthy nutrition while maintaining ecosystems that can continue to provide food for generations to come.
Portforlio project Jackson Hole Buffalo Meat
We are a leading marketing agency with Portforlio project dedicated to your design, branding needs. With your business goals in focus, we will help you plan and develop customized marketing and digital strategies, branding solutions, graphic design, and media management plans customized and dedicated to saving you time and earning your business growth.
Refine Digital Media was founded by Krista Pellow in 2010, originally established as a part time freelance business. After juggling a young family and three jobs all in different business streams of management, teaching and design, Refine became a full-time business in 2018, under the name Refine Design • Creative content strategies, before it's name change to Refine Digital Media in 2020.
We are a creative design and digital media agency in Ontario and BC, Canada. In the early stages of the Covid-19 pandemic, we had to pivot and focus from growth to 100% support for our client base. It was our sole focus to help them weather the storm the pandemic was serving up. Some clients were forced to close the doors and some were able to operate as essential businesses. One thing they had in common was that they needed to drive their online presence more strongly than ever.
Unlock Your Business Potential with Professional Digital Solutions
In today's digital landscape, it's crucial to have a strong online presence. At Refine Digital Media, we offer a wide range of services to help your business thrive. From captivating graphic design services to cutting-edge digital media solutions, we have the expertise to elevate your brand and engage your target audience. Our skilled team excels in website development, ensuring that your online platform is visually stunning, user-friendly, and optimized for performance. With our comprehensive digital solutions, we empower your business to stand out in the digital realm and achieve lasting success.
Elevate Your Brand with Strategic Digital Marketing
A strong brand presence is essential for business growth. At Refine Digital Media, we specialize in branding services that create a lasting impact. Our team works closely with you to develop a comprehensive brand strategy, encompassing logo design, color schemes, and brand guidelines. We seamlessly integrate your brand identity into all digital channels, ensuring a consistent and memorable brand experience. Our expertise extends to online marketing strategies, including social media management, search engine optimization (SEO), and email marketing. By harnessing the power of digital marketing, we position your brand for maximum visibility, engagement, and conversions.
Exceptional Digital Experiences Tailored to Your Business
At Refine Digital Media, we believe that exceptional digital experiences are the cornerstone of business success. Our team of experts specializes in content creation, crafting compelling narratives that resonate with your target audience. Whether it's engaging blog posts, informative website copy, or captivating visuals, we create content that captivates and converts. We also offer e-commerce solutions, enabling you to establish a seamless online shopping experience for your customers. With our meticulous attention to detail and collaborative approach, we bring your digital vision to life, delivering outstanding results that drive growth and customer satisfaction.